Robinson Preserve - Bradenton, Florida
Take a leisurely walk, bike or all out run at Robinson Preserve.
When visiting Bradenton Beach, I love lying on the beach and bobbing in the water. But I know I need to keep active too. There are lots of water activities but when I want to get off the beach I love to visit Robinson Preserve for a great nature trail. This preserve is located off island and can be easily reached by car or your bicycle. The trail allows me to enjoy my surrounding while pedaling or trying to get a good run. There is something about the beauty that distracts me from the sweat.
Robinson Preserve includes 487 acres of coastal, saltern, marsh and mangrove habitat. This atmosphere attracts a variety of wildlife including bald eagles, pelicans, lizards and crabs. I prefer to run but you can bike or rollerblade on 3 miles of paved trail. Hikers can enjoy more than 5 miles of shell and coastal trials.
I have yet to explore by kayak but this too is an option with launches available. Robinson Preserve has 3 miles of blue ways through mangrove tunnels and marshes. There are kayaks and paddle boards. You'll need to plan ahead as online reservations are required in advance.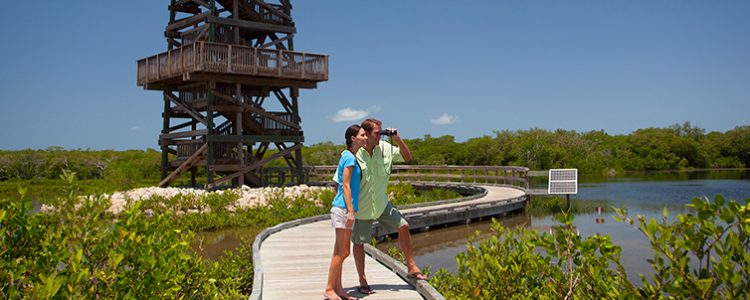 Another great feature is that the preserve is dog friendly (leash required), has parking, nature maps, a visitor center and an observation tower where you can view four counties and five water bodies. It is pretty beautiful so you may want to bring your camera along.
I prefer to visit early morning before the Florida sun gets too high and too hot. Get up and get going.
What to bring
Bug spray, water and sunscreen.
Hours
7 days a week 7 AM – 6 PM.
Restrooms Available
Location(s)
There are multiple entrances for your convenience.
One Aquatic Entrance
9800 Manatee Ave W, Bradenton Fl 34209 at the surfer bus
The Main Entrance
1704 99th Street, Bradenton, Fl 34209
Perico Island Hike in Entrance
10600 block of Manatee Ave W. under the hump back bridge.